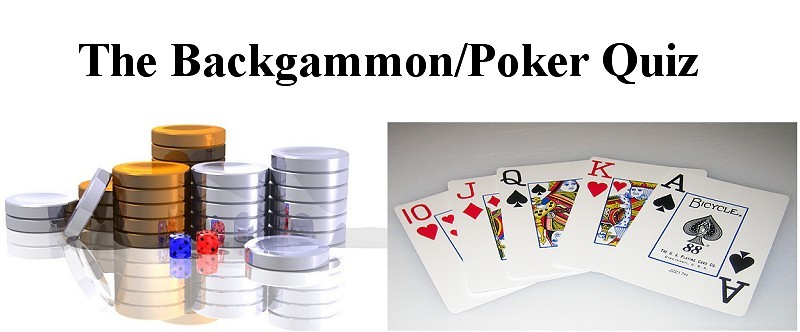 It's not surprising that so many backgammon players have found success in poker tournaments. The calculations required to make cube decisions in backgammon are similar to the calculations a poker player uses when calling or raising a bet. A backgammon player trailing 11-away 2-away will play aggressively with the cube, and will carry that aggressiveness to a poker tournament when he is short-stacked. It's time that this link between backgammon and poker is expressed in a backgammon quiz.

This backgammon quiz is about checker plays and cube decisions from ten money-game positions. This backgammon quiz is scored differently, as if each question is a hand in a poker tournament. You and I oppose each other in this heads-up quiz. My goal is to bust you. I'm betting you don't know the answers to the backgammon quiz. You begin with a stack of 500 chips, but I have unlimited funds. I will always bet first. The size of my bet will be determined by the answer you have chosen. I might make a large bet if you've chosen an incorrect answer. Even if you've chosen the correct answer, I might try to bluff you with a large bet attempting to force you to fold. After my bet you have three choices:

You can fold.
You can call my bet.
You can raise any amount of chips you have left. I will call any raise you make.
INSTRUCTIONS: Your chip total is on LINE 1. Type the letter of your answer in the box on LINE 2. Click in the box on LINE 3 and my bet will appear. If you do not want to bet, you may skip this question by typing fold in the box on LINE 4, and move to the next question. If you wish to bet, click in the box on LINE 5 and enter a bet. After betting, click in the next box to see your new chip total. To clear all the entries from the quiz, hit the browser refresh button.