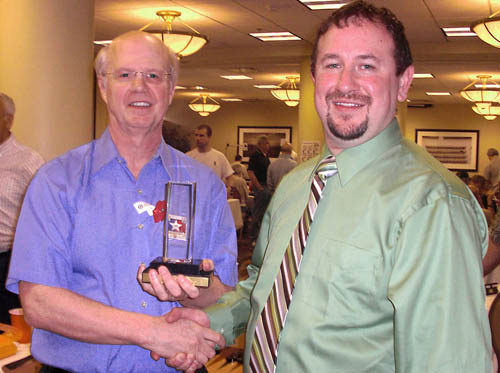 Definitely a tough field. The Chicago Open, in conjunction with the World Backgammon Tournament of Champions Invitational (won by Jeremy Bagai) was held over the Memorial Day weekend, May 24–28 at the Holiday Inn O'Hare. Over 100 players from all over the world attended Rory Pascar's extravaganza, including 10 of the top 21 Backgammon Giants in the world.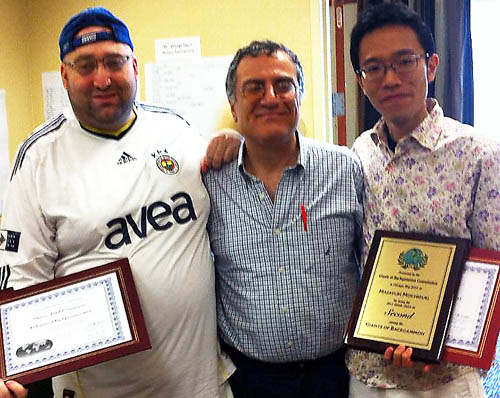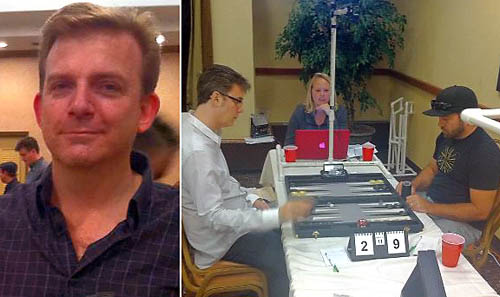 This was a Swiss format tournament with more than 10 rounds of 9-point matches. In order to be knocked out of this event, a player would have to be defeated three times. Against competition of this caliber, I would have to be very lucky indeed. I entered the first round match with my standard philosophy: "If the dice are with me, I'm going to run with them."
And run I did, going 5–0 at the end of Saturday's competition. It was a good start, but I would still need to win at least three more matches to even cash!
Late Saturday evening, Chicago Bar Point Club regular Nora Luna Righter was the only other 5–0 player, so we faced off Sunday morning. In many 64-player grids, this would have been a match for the first place trophy. Not in this format.
After rolling past Nora, I was paired against one of my nemesis opponents and (in my opinion) someone worthy of being ranked in the world's top 64: Steve Brown from the Minneapolis area. A hard-fought victory over Steve made it seven in a row. Still no money locked up, but getting close!
Las Vegan Matt Cohn-Geier was opponent #8. When he defeated me, it was a backgammon reality check. If you don't hit the key shots, you won't win. But I didn't get down. I stayed focused on the big picture. I would only need one more victory in the next three matches to place.
Matt Cohn-Geier was voted Giant #5. Now In round nine, I would be facing Japan's Michihito "Michy" Kageyama—Giant #4.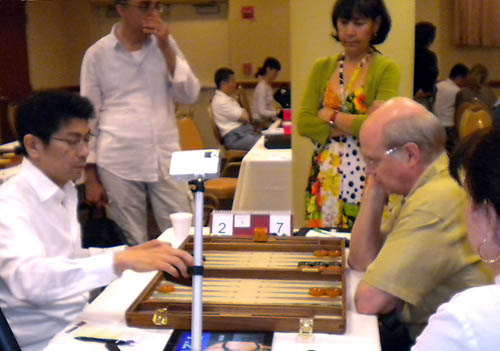 Michy played a very aggressive game. I took a few tense doubles and was fortunate enough to turn both games around. The win here gave me an 8-1 record.
As amazing as my 8-1 run had been, others were experiencing similar streaks. My tenth and last match of Sunday was against intermediate player Ben Friesen of Davison, Michigan. That's correct, Ben plays the intermediate division! He only moved into this shark-infested Open bracket at director Rory Pascar's request (and partial backing) to fill out the field at 64. The tough competition obviously didn't scare the young upstart. Ben battled me over the USBGF Internet feed all the way, but in the end, my dice prevailed and I ended the day with a 9–1 record.
Since Saturday, I had remained as hot as the outside temperature (mid-90s). Now, on Memorial Day Monday, I would need to add at least one more victory to win it all. And my opponent would be either Matt Cohn-Geier or Steve Brown!
I had already faced them both. What does it take to kill off these zombies? In the Swiss format, they just keep coming back at you.
I suppose I was "lucky" to draw Steve. (Although I rate them equally tough.) I didn't feel too lucky though when Steve jumped ahead 7–4 to 9. I battled back to trail 6–7 when Steve cubed me here: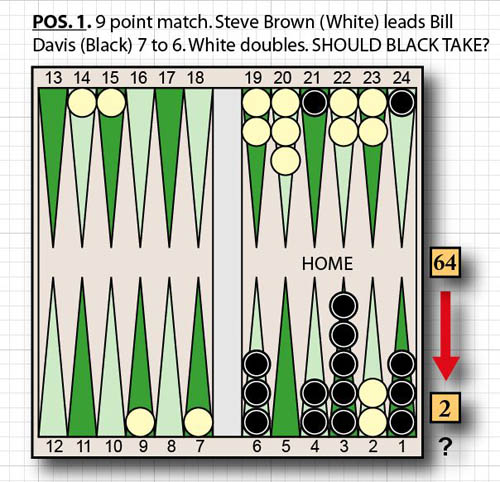 It was a fine double by Steve that had me wondering, "How am I going to get both of those checkers around to safety?" I dropped the cube deciding that I would rather try to win two games in a row. In fact, an XG rollout shows my decision to be incorrect. I can win nearly 27% of these games whereas I am only about 25% to win two games in a row. Still, I dropped the double with no regrets. And who knows? If I had taken, I might have lost!
Now trailing 6–8 Crawford, I would need very good fortune. Steve had all of his checkers in his home board except for two men on his bar-point. His 6-point was empty and I was on his 5-point. Naturally Steve rolled 6-2 and I hit. It was the kind of luck you need if you are going to win a big tournament.
Fast forward the same game to this tense position: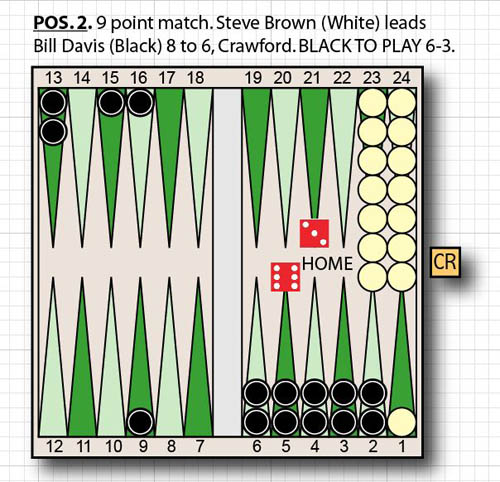 Steve quickly entered on the ace point. Now I had to inch my men around into position either to make my bar point or hit him loose, worrying every roll that he would leap out with a 6. It was a tense few rolls untill finally I made a crucial decision: I would take the bull by the horns and slot my bar point. After 3600 XG rollouts, my play ranks second, 0.011 behind the slightly favored 15/12, 9/3.
C'est la vie. As I said in my ABT Facebook analysis of this problem posted May 30, I don't care what XG says. White's continuing threat was bothering me and I choose to bring the matter to a head. The play worked out and since I am a "results-oriented" player, I was very happy with my decision!
The final game developed into a very close race. At the very end, Steve needed double 2s or better to win. He rolled a non-double.
The news got even better when I found out that Alfred Mamlet had defeated Matt Cohn-Geier. That gave me a 10–1 tournament-winning record with seven other players tying for second at 8–3. What an incredible weekend. I may have made a ton of "technical errors;" however, my game plan worked this weekend and that's what's most important to me.
WHY I DISLIKE THE SWISS FORMAT
That seems like a crazy thing for me to write. In the Wisconsin Swiss, I won in 2007 and finished 2nd in 2010. Then in 2011, I placed 5th in the Pittsburgh Swiss. So with this Chicago Open win, the Swiss format has been very, very good to me. Still I dislike it.
I dislike it because it is the tournament format that most favors the best players of our game. Lots of techies at Stick Rice's forum feel the same way. If the cost of attending and entering a tournament were just $100, I'd see nothing wrong with always attempting to determine the most skillful winner. But travel, accommodations, restaurants, entry fees and Calcutta Auctions can easily push the expenses of entering an out-of-state ABT event over $1000. I won't mention any names, but two Chicago players stayed away from the Chicago Open because they judged their chances of winning nine or ten matches out of eleven to be next to nil.
Swiss tournaments are gaining popularity. Over the Labor Day weekend, Steve Hast will also utilize the Swiss format. I see no problem with this. In fact, I think it's good for the game to utilize a number of different formats. Let's just not overdo it.
Backgammon players are equity oriented. Just as many blackjack players will not play at a table that pays only 6-to-5 (vs. 2-to-1) on a "blackjack," there will be a number of the middle to lower-tiered Open backgammon players that will stop attending those tournaments that they deem too difficult to win.—Bill Davis ∆