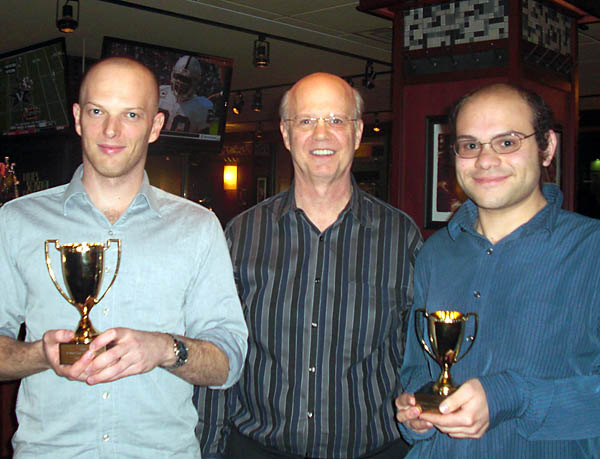 34 players from Illinois and Wisconsin honored the memory of Peter Kalba in the first annual Kalba Cup backgammon tournament. The event, named in the memory of the late Chicago Bar Point club co-founder Peter Kalba, was held at the Bar Louie Tavern in the Oakbrook Terrace Holiday Inn.
The Championship winner was David Presser. David a grad student at Northwestern University, faced three tough matches before blowing out his last two opponents. Presser defeated Roger Hickman 9–0 in a three game semifinal and then blasted Lucky Nelson 9–0 in the finals.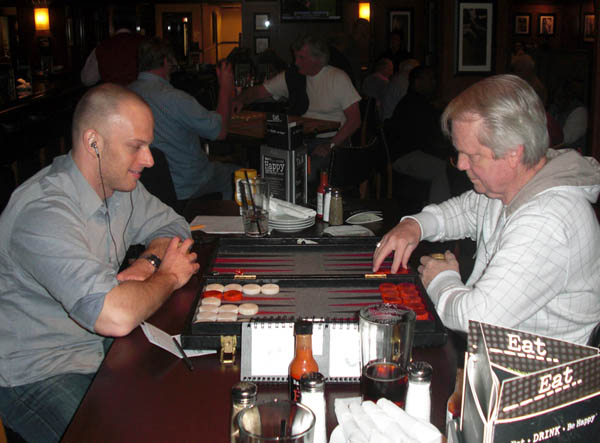 An interesting position occurred in the opening game of the finals match. Presser (Black) got hit bearing off, but entered and was trying to bring his final checker home: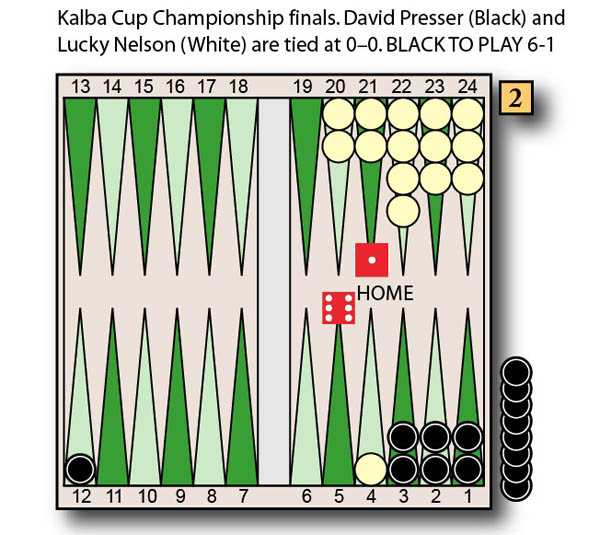 Presser played 12/6, 1/Off. "Why leave a second blot on the ace point?" was Nelson's comment. As a kibitzer, I would have guessed that Lucky was correct. Playing 12/5 not only makes it impossible for White to pick up a second piece, it also reduces White's hitting numbers from 12 to 11. Lucky was sure enough to challenged David to a $25 bet on the play, but David wanted to keep it more friendly and accepted only a $10 wager.
David won the bet easily. After 3600 XG trials, 12/6, 1/Off rolled out 0.040 better than 12/5. That's because taking a checker off brings Black down to only six pieces which gives him a significantly better chance to win a gammon: 5.17% vs. 1.78% to be exact. The gammon vig is the deciding factor here. Change the match score so that gammon wins are of no significance and 12/5 rolls out better by 0.003.
Jack Edelson, a grad student at University of Wisconsin at Madison, captured the Intermediate title. Edelson, who is also a chess player, won a wild final game over Ken Meng at DMP to claim his first backgammon trophy ever.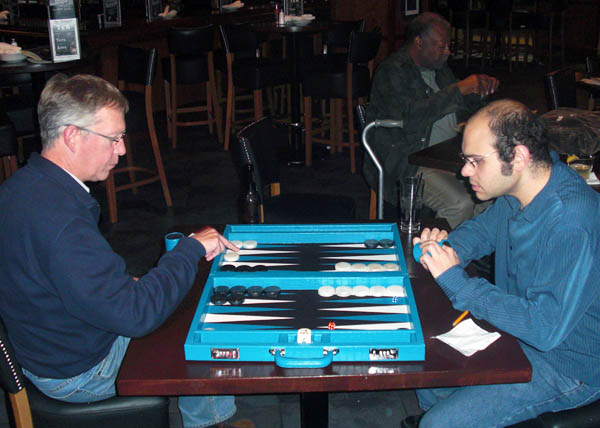 Thanks to all who participated. This year at a September memorial, $1000 was raised for the American Diabetes Association (ADA) in memory of Peter Kalba. In the years to come, the Kalba Cup Tournament will continue to benefit the ADA. Complete results:
2012 KALBA CUP (17 Nov. 2012; Oakbrook Terrace, IL)
Championship (22): 1-David Presser, 2-Lucky Nelson, 3/4- Roger Hickman / Mike Minkovski; 1C-Bill Bartholomay, 2C-Steve Blanchard.
Intermediate (12): 1-Jack Edelson (WI), 2-Ken Meng, 3 /4-Les Moshinsky / Amy Trudeau; 1C-Harry Glinos, 2C-Joe VanDerWal.
1-Point Tournament (16): 1-Harry Glinos, 2-Dave Settles.