50 people (Including 44 tourney entrants) were on hand to honor the memory of Peter Kalba at the 2nd annual Kalba Cup backgammon tournament. The event, named for the late Chicago Bar Point Club co-founder Peter Kalba, was held Sunday, November 10 at Giordano's in Morton Grove, Illinois.
The Open winner was Faddoul Khoury of Bloomington, Illinois. Khoury blasted through Don Marek, Tak Morioka, Phil Simborg, and Ken Bond before facing David "The Coyote" Presser, the 2012 defending Kalba Cup champion.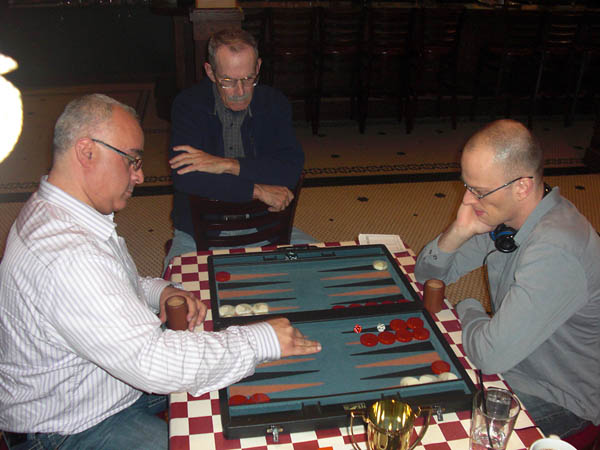 Presser, nicknamed "The Coyote" by Khoury for his wily cube play, was ready for this tournament. He brought his 2012 Kalba Cup "expecting" to have a winner's photo taken with both trophies. But it was not to be. After a sequence of 11 one point games, Khoury opened up the match, eventually winning 9–6.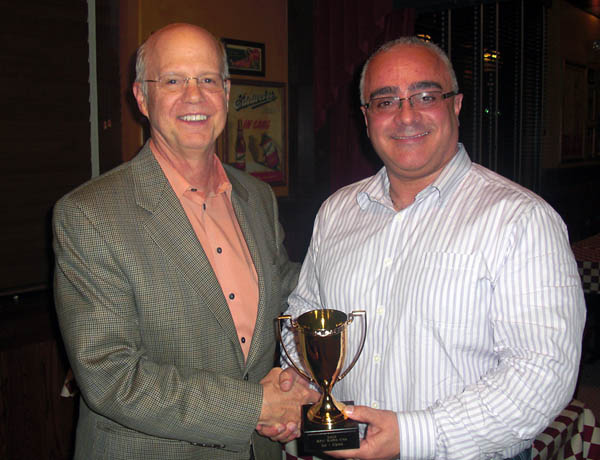 The Intermediate Kalba Cup went to Harry Glinos of Bartlett, Illinois. Glinos crushed Christopher Shanava 7–0 to earn the win.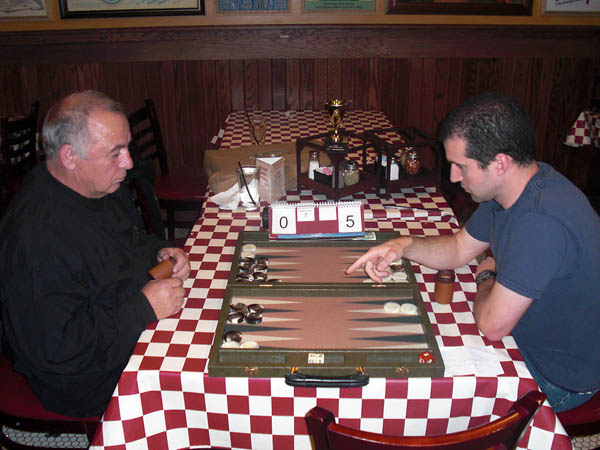 Thanks to all who participated. In memory of Peter, the Bar Point Club will send a check for $100 to the American Diabetes Association (ADA). Complete results and photos follow:
2013 KALBA CUP (Nov. 10, 2013; Morton Grove, IL)
Championship (30): 1-Faddoul Khoury, 2-David Presser, 3/4-Ken Bond / Tim Mabee; 1C-Lucky Nelson, 2C-Steve Klesker.
Intermediate (14): 1-Harry Glinos, 2-Christopher Shanava, 3/4-Roy Cohen / Amy Trudeau; 1C-Jay Robinson, 2C-David Nosik.
1-Point Tournament (16): 1-Lucky Nelson.