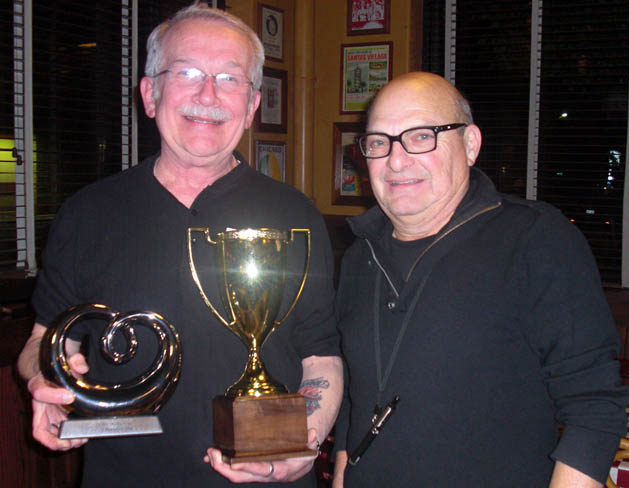 41 players from three states participated in Chicago Bar Point Club's third annual Kalba Cup tournament. The event, thought of as the BPC Club Championship was renamed in 2012 in honor of long-time BPC co-director Peter Kalba. Players from three states participated including former Monte Carlo world backgammon champion Frank Frigo of Kentucky.
The 2014 winner is Jim Opre of Downer's Grove, Illinois. A regular Intermediate player who is only one of two players to have attended every Midwest Championship and CSI event since 1984, Jim bested this year's 27 player Open field in impressive fashion. After securing one of only five byes, Jim defeated four BPC top 20 players (including current club leader Rory Pascar) to capture the biggest win of his life.
The 9-point final was especially exciting. Trailing David Nosik 0–6, Opre accepted Nosik's early gammonish cube. The problem was that if Nosik had kept the cube and rolled on to win an undoubled gammon, he would be ahead 8-0 Crawford which is super strong anyway.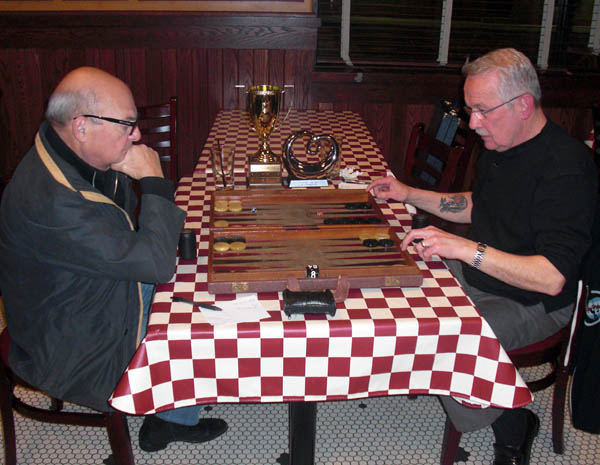 The match progressed to this position with Opre (Black) on roll: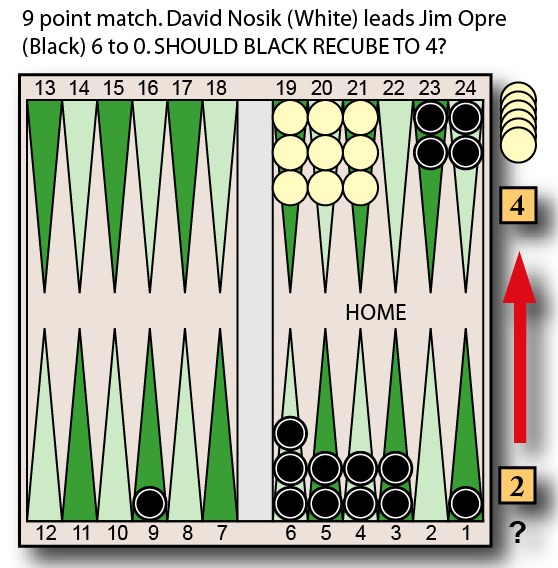 Opre redoubled here. An XG ++ rollout shows this to be "No Redouble," but a long 3-ply rollout reverses the decision to a fractionally correct "Redouble/Take." That is probably because Opre had two market-losing rolls if Nosik would next roll 6-3 exposing two blots.
Following David's 4-cube take, Jim tossed an awful 4-4 played 8/1, 6/2(2). But a few turns later, David did expose two blots. Jim picked both of them up and won a thrilling game to trail 4–6. He then rallied to a 9–7 match win.
It was a sweet victory for Jim Opre who was a good friend of Peter Kalba for many years. Back in the 90s, Jim would hold an annual 8-player tournament/dinner party, the "Opre Invitational," which Peter won one year. So it was nice to see Jim repay his friend by winning the Kalba Cup, which this year was made into a traveling trophy with winners retaining 12 month possession.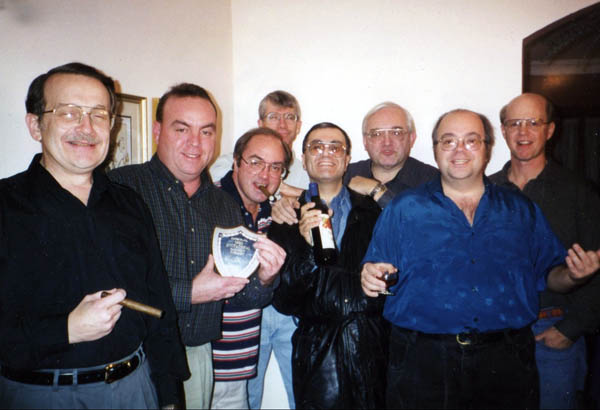 Jim writes:
"Many thanks for staging and running the 2014 Kalba Cup! This event allowed me to make a memory that I'll cherish for the rest of my years. What a thrill to win one for Peter! Pete must have been rolling the dice for me! How else can you explain my beating four of the top 20 Chicago Bar Point Club open players?! It's a wonderful feeling to possess the traveling Kalba Cup for a year and have my own Kalba Cup Open trophy to keep forever!"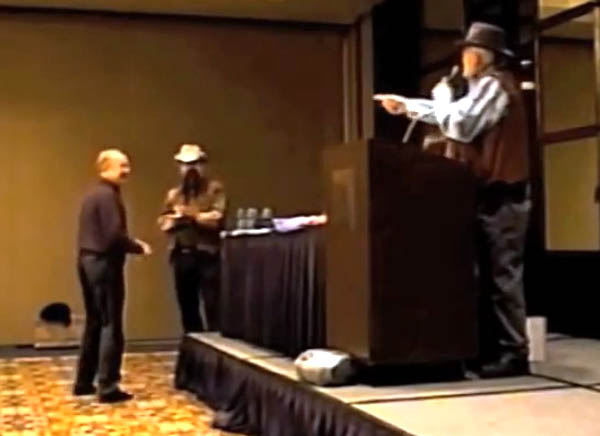 In other events, relatively new tournament player Steve Hairgrove won the Intermediate division over Lee Pflugrad of Wisconsin. But Lee got some revenge by besting Steve in the 1-point tournament finals.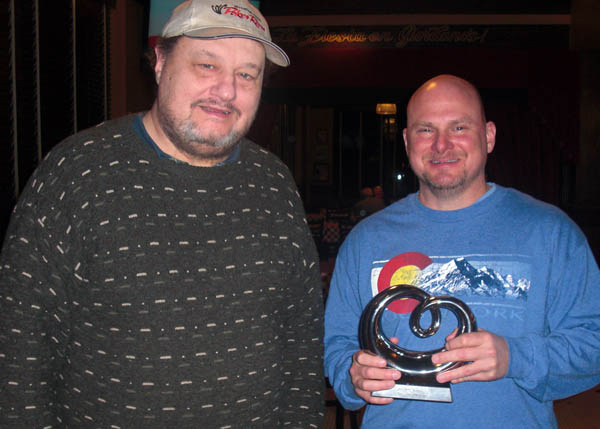 The Consolation winners were Paulette Duong (Intermediate) and Don Marek (Open).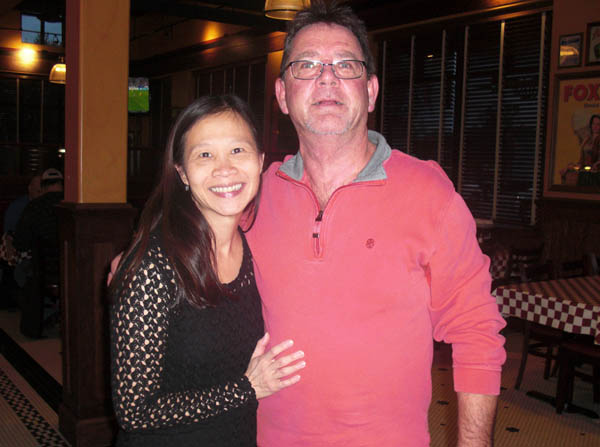 Thanks to all who attended. Complete results:
2014 KALBA CUP (10 Nov. 2014; Morton Grove IL)
Open (27): 1-Jim Opre, 2-David Nosik, 3/4-Ralf Boettger / Bill Bartholomay; 1C-Don Marek, 2C-Bill Davis.
Intermediate (14): 1-Steve Hairgrove, 2-Lee Pflugrad (WI), 3/4-Bill Keefe / Jamie Shapiro; 1C-Paulette Duong, 2C-Mike Minkovski.
1-Point Tourney (16): 1-Lee Pflugrad (WI), 2-Steve Hairgrove.